Leisure Electrics
The leisure electric system that you design and fit to your your van is, in my opinion, the most important part of the conversion process. Without power a camper van is fairly useless, no lights, fridge or water pump !
I believe the vehicles battery and the leisure system should be separate so that no mater how you use your leisure electrics system your vehicle will always be able to start. The other reason for keeping them separate is that you will probably use a different type of battery, as its usage is totally different.
I planned to have the following electrical appliances in my van :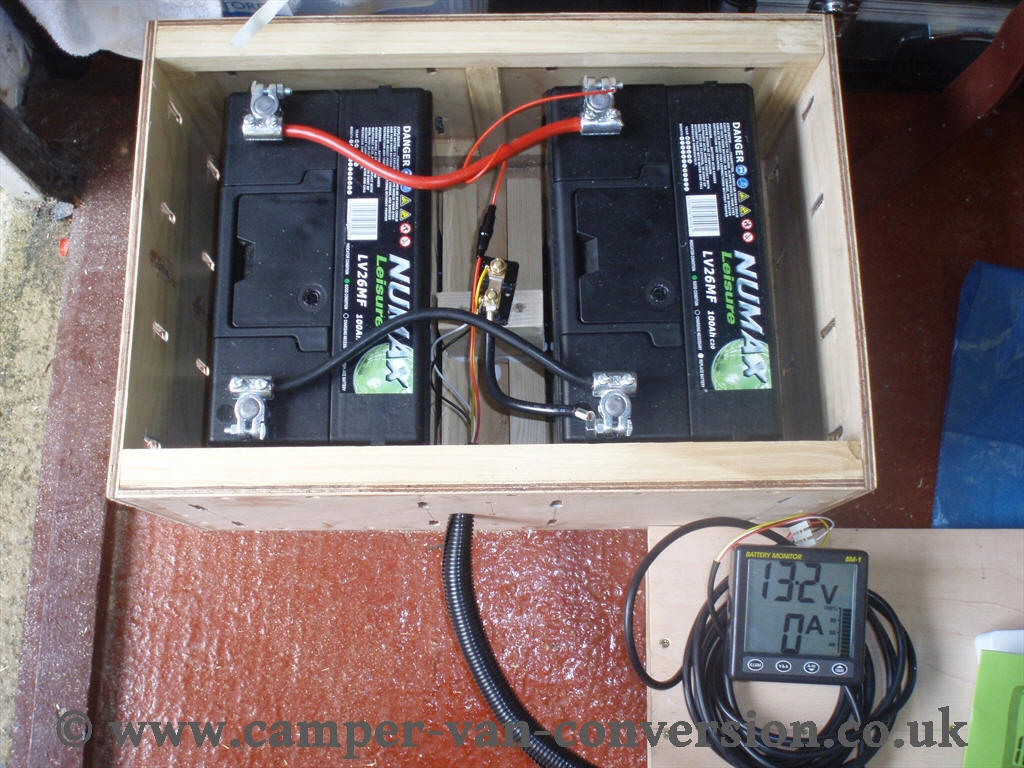 12v Compressor fridge (40 watts)
Water pump (10 watts)
Lights (LED) (15 watts)
Battery monitor (0.4 watts)
Gas alarm (0.4 watts)
Laptop (12v charger) (80 watts)
To provide enough power for these on days out I installed two, 95Amp hour batteries, giving me atotal of 190Ahr of power.
The other main components of my system are :-
BM1 – Digital Battery Monitor.
Sterling Battery to Battery (B2B) charger
Switched fused 12v distribution panel
Waeco CR50 compressor fridge
60w Solar Panel and controller
Whale submersible water pump
LED lighting
Gas leak alarm
12v Aux sockets
Mains electrical system, RCD distribution, sockets and main battery charger (7amp).
To ensure all this equipment would work together I prepared a full leisure electrics diagram before I installed it. Calculating the correct cable sizes is very important.
All the information (including a b&w full wiring diagram) is available in my book, available from Amazon or Lulu . An A3 full colour wiring diagram is available for £3.99 delivered, direct from me.